Happy Weekend Dear Friends!
I have been sewing up a storm this week and it has continued into today --I have been busy making bears from a pattern by Maureen at
Sweet Meadows Farm
--totally ADDICTED, I must say! I love, love,
LOVE
this pattern! So great for using up scraps, and I can see more patterns by SMF being added to my 'Must Make' list! I have 2 that I can show you now--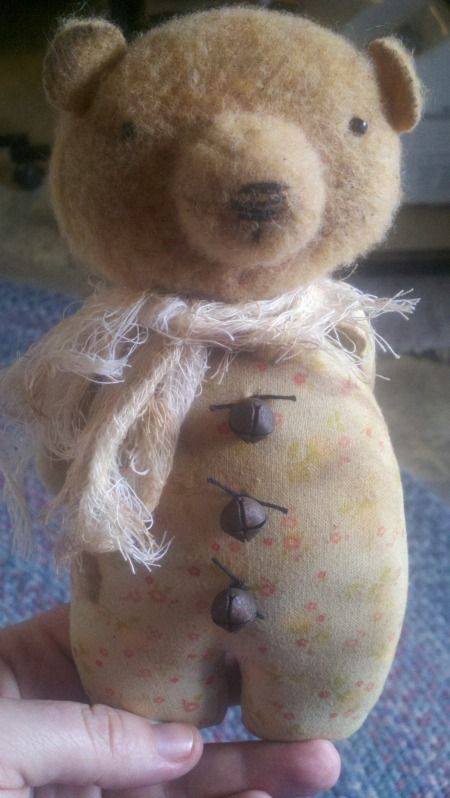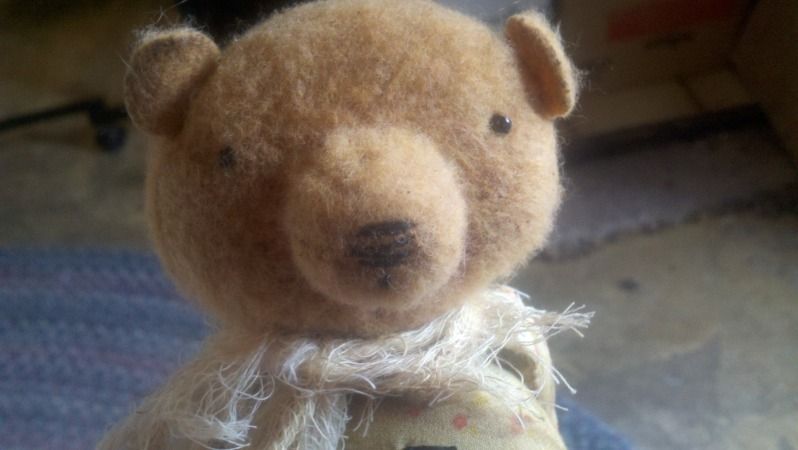 The first one is a flat headed teddy--just look at that sweet face! with a rather heavily tea and coffee stained fabric body--the fabric started out in a light teal-ish blue and I am really pleased with the level of distress. She is finished off with 3 rusty bells tied on with crochet thread and a rather ratty tea stained cheescloth bow.
The next one is a round headed bear, which hubby says would make a great Daddy bear and this one is dressed in a lighted stained, yellow and peach body--stained with a blend of tea and vanilla with a light bow. She doesn't have buttons or bells yet--trying to decide exactly how I want to finish this bear. I also stained and grubbied up both heads before attaching them to the bodies and rubbed cinnamon into both so they smell oh so YUMMY! I am going to be listing these darling bears in my Etsy store here shortly--with better pictures! These here were taken with my cell phone next to my back door!
Also being worked on are some new tucks that I am going to be partnering with the sewn baskets that I shared in my last post. I think they are going to be wonderful for spring, Mother's Day and into Summer! They are still in the playing, sewing, thinking stage, but I will be taking pictures along the way so you can see them!
This is a pretty big weekend around these parts for the Little Man, as we are getting ready to have his first birthday party tomorrow! Can hardly wait! Grandpa and Omi, Mommy and Papa, Big Sis and Big Brother and some of our friends are going to be here to celebrate! We are doing a farm theme and rather than doing a cake, we decided to do cupcakes instead! We are getting the frosting airbrushed green with green sprinkles and I purchased the most DARLING fondant farm animals from
Sugar Art by Tami
on Etsy. Here is a similar set to what we
purchased
--they are absolutely adorable and I highly recommend her work--and they came beautifully packaged and she put longer legs on the animals so they will stand up in the frosting! I will be sure to take plenty of pictures to share in a future blog post!
Well--I should wrap it up for now! I can hear my machine calling me and I need to get my goodies finished up for tonight's listing on Olde Primitive Peddler! Have a wonderful Saturday and weekend friends! And as always--
Be safe and happy crafting!
Karen
PS Alas, my sewing machine went kaput on me today--I was happily sewing along and it started to make some grinding noises and I stopped what I was doing and ran it down to the quilt store where I get it serviced and it will be going in for a spa treatment and I won't have it for 2 weeks! I did switch over to my back up machine and that was like using a new machine since I haven't used it for a while! The upshot is though, that I won't get my items done for Spooks and Saints on Olde Primitive Peddler! Darn it all! So they will have to wait till the next listing, which will be May 15th--just wanted to let you know!!