Hello!! I have been reading about giveaways and posting about giveaways, and I guess the time has come to HOST one of my very own! I have decided to giveaway the stars that I was working on earlier and had an impromptu tutorial on--if you missed Galaxy of Stars follow this
link
to read that particular post. Anywhoo, these holiday stars are made from ticking, both red and green, with stars made from cutter quilts that I made. The stars were heavily tea dyed as were the quilt stars. They were stitched on with perle cotton with primitive stitching and then topped off with vintage buttons. Darling! if I may say so myself! I am really very pleased with how the stars turned out and so I thought I would give you the opportunity to win that pair!
And here they are!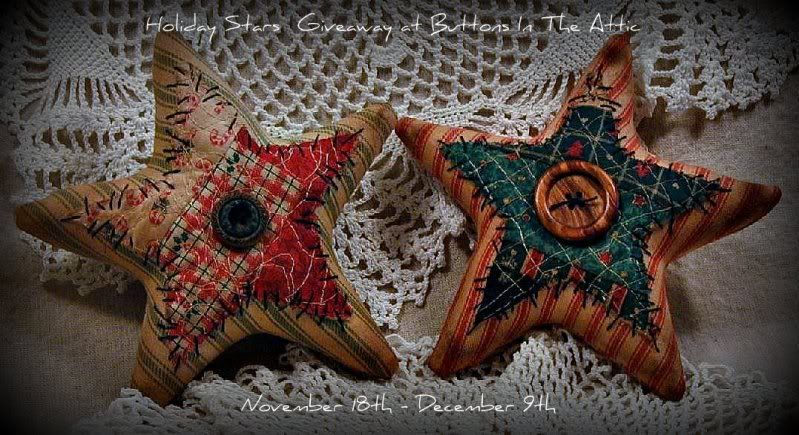 Now how do you enter the giveaway for these stars you may be asking yourself? Well, here is the 411 as my daughter is wont to say! This giveaway is open to those followers in the US and Canada.
First--you must follow my blog! Pretty simple! If you are already a follower, just mention that in your comment and please everyone, share something that says Christmas to you! Is it the smell of turkey baking in the oven? The music of the season? Is it decorating the tree? What is the special holiday moment that means so much to you?
Two--Please post about the giveaway on your blog and post a link back here! You can earn an extra entry by posting about my giveaway on your sidebar. If you do not have a blog, please leave me your email address so I can get in touch with you!
Three-- Mention my giveaway on your Facebook page, if you have one (send me a
friend request
so I can verify)
Four--For extra entries, join my Facebook page, or follow me on Twitter. If you follow me on Twitter, please tweet about my giveaway--if you join my Facebook page, please post there that you have entered my giveaway.
Please put all of these into one post--one, two or three if you please! Thank you!
The giveaway runs through December 9th. I will be picking the winner over the weekend and notifying them. The winner has 48 hours in which to respond and as soon as the winner has responded, the package will be out in the mail the next business day! Good luck!!